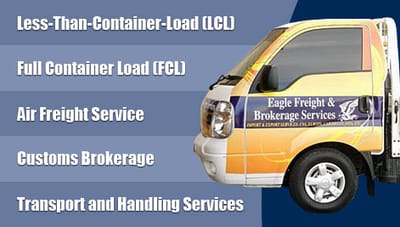 Eagle Freight and Brokerage Services (Eagle Freight) is a renowned Shipping and Customs Brokerage Company covering shipments worldwide to Saint Lucia and the wider Caribbean. Eagle Freight prides itself in bringing its customers exceptional global coverage. Our Team comprises of experts in the field with in depth knowledge of shipping, brokerage and customs affairs. Our years of experience with a team of over fifty (50) years combined industry knowledge and expertise will cause us to provide you with a service that is second to none. Our Head Office is based in St. Lucia and we have affiliates worldwide.

We provide high quality logistics solutions to the business community and we are well known as the leading logistics specialists in the market. We are capable of providing our clients who operate Micro, Small and Medium Sized Enterprises (SMEs) arrangements intended to deal with their complex and regularly changing supply chain needs.

Notwithstanding our transportation capacities, Eagle Freight has a door to door distribution system deliberately targeted at servicing clients in key residential and commercial areas. With our flexible warehouse solutions and inventory management system you will benefit from modern technology as well as secured storage facilities.

In addition our logistics and supply chain management systems are intended to transport and oversee stock according to your business necessities while accomplishing the speed, exactness and adaptability required.

If you are interested in any of our services we would be pleased to hear from you. Do contact us today to consult with one of our team members who will be happy to advice you!